UM F-27 FPV BNF Basic

UM F-27 FPV BNF Basic
Product Details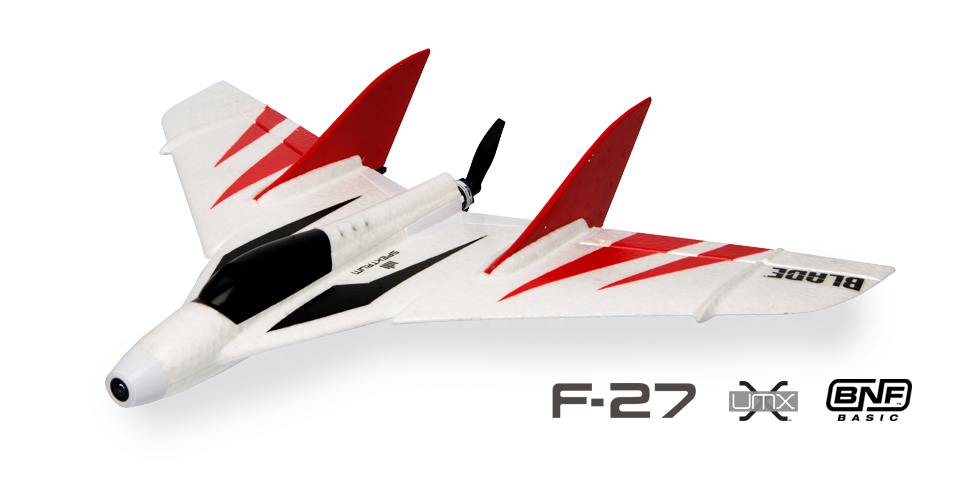 The Blade® Ultra Micro F-27 FPV BNF® Basic wing brings the excitement of FPV wing flying in a size that can be flown practically anywhere. Its lightweight Z-Foam™ airframe features impressive durability to handle bumps or bruises. Take advantage of built-in AS3X® stabilization and SAFE® technology for the comfort of envelope protection and self-leveling for a confidence-inspiring flight experience. The high-output brushless motor accepts 2S Li-Po batteries to suit mild or wild flying styles, and the 150mW VTX provides crisp, clear video in any environment. Bind-N-Fly Basic completion level means all you have to do is simply add a 2S 280mAh battery and bind it to a compatible Spektrum™ transmitter.
Video Overview

SAFE Technology Equipped Fight Modes
The F-27 is equipped with Horizon Hobby's revolutionary flight control software, SAFE Technology, allowing you to control your flight experience at the flick of a switch. The F-27 is outfitted with multiple flight modes making FPV wing flying easy even for the first time pilot.
Launch Mode: Provides self-leveling giving you the ultimate confidence in launching and first time cruising. Even if you are already in the FPV goggles, launching is a breeze. Just toss it like a paper airplane and add full throttle. SAFE technology takes care of the rest. No more awkward launches ending in a crash
Experienced Mode: Gives the pilot full control of the aircraft for high-speed racing and only stabilized with AS3X.

Needed to Complete
4+ channel transmitter with Spektrum™ DSM2/DSMX technology
FPV Monitor or Headset
280mAh 2S 7.4V 30C LiPo Flight Battery
2s Balance Plug Charger Adapter, UMX to EFL
Suitable Charger
What's in the box?
Blade UM F-27 FPV
BL180 3000Kv Brushless Outrunner Motor
Flight Controller
Spektrum 150mW Video Transmitter
Spektrum FPV Camera
User Manual
Indoor and Outdoor Capable
The size and flight characteristics of the F-27 give it the ability to be flown outdoors in spaces like backyards, smaller parks, and even indoor spaces like a basketball gym. SAFE technology and the brushless power system also allow this wing to handle light winds outside without issue.
150mW Video Transmitter
The F-27 is equipped with the Spektrum™ 150mW video transmitter which is compact and more than enough power for FPV exploring.
NOTE: A HAM license is required to operate the Video Transmitter in North America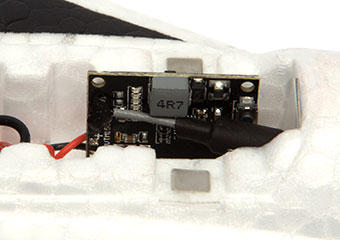 170 Degree Wide Angle FPV Lens
The camera is equipped with a wide angle lens allowing you to see the next obstacle with ease. This is especially beneficial for flying in close proximity to trees, flags, or other objects giving you the confidence to perform thrilling maneuvers anywhere.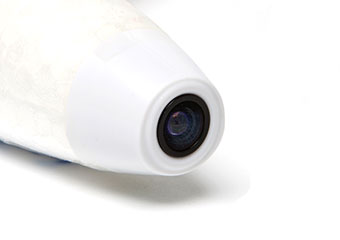 Brushless Motor
The 3000Kv brushless motor, 3" propeller and 2S battery deliver lightning fast speed and efficiency on a wing this size. At the same time, the airframe design allows it to glide around at slower speeds very comfortably.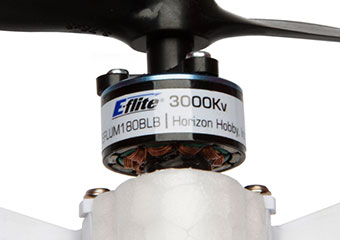 Magnet Hatch
Quick-disconnect magnet hatch makes accessing the video transmitter and electronics, and swapping a battery quick and simple.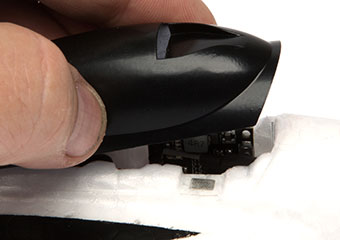 Linear Servos
High-torque micro linear servos drive the elevons for locked in control. Guards over the servo linkages provide increased aerodynamics and durability in a crash.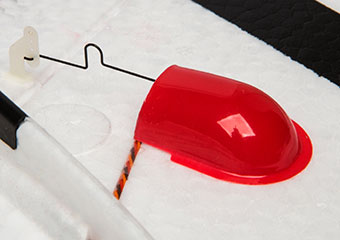 Product Specifications
| | |
| --- | --- |
| Skill Level | Level 2 |
| Wingspan | 17.0 in (432mm) |
| Propeller Size | 3.75x3 |
| Completion Level | Bind-N-Fly Basic |
| Power Type | Electric |
| CG (Center of Gravity) | 67mm from motor mount |
| Material | Foam |