Inductrix FPV HD RTF

Inductrix FPV HD RTF
Product Details
Key Features
High Definition FPV
SAFE® Technology
Lightweight, fully assembled Ready-to-Fly drone
Quiet electric ducted fan style power system
Durable, damage-resistant rotor housings
Brilliant orientation LEDs
Flight transmitter with built-in tactile camera controls
Single cell 550mAh flight battery and USB charger
Smart phone headset adapter
Articulating camera mount
Adjustable on-screen display
720p video feed downlink
1080p 60fps on-board recording
SD memory card slot
Wireless transfer of saved files to smart phone
Apple and Android support
Needed to Complete
Nothing! Everything you need to begin having fun with your Inductrix FPV is included.
What's in the Box?
(1) Inductrix™ FPV HD RTF
(1) 720p FPV Camera (installed)
(1) 1S 550mAh flight battery
(1) 2.4 GHz ST6 SAFE® DSMX transmitter
(1) Product Manual
Overview
Flight-ready and feature-packed, the Blade® Inductrix™ FPV HD micro drone offers a uniquely easy and exciting HD FPV experience. Now, anyone with or without hobby experience can enjoy indoor FPV flying and aerial photography!
The Inductrix™ FPV HD drone's low-latency, high definition FPV camera uses an amplified WiFi signal to send beautifully immersive 720p live images straight to your Android or Apple smart device. Its included headset adapter has slots to hold your smart phone. Simply slide in your phone and it becomes your FPV goggles. Tailor the image you see to your preferences by adjusting the On Screen Display settings. On-board camera features include an SD memory card to record what your Inductrix™ FPV HD camera sees in brilliant, 1080p, 60fps video. Set the camera angle by adjusting its articulating mount — "up" for fast flying, "down" for when you're ready to shoot exciting bird's-eye scenes. The camera controls are tactile buttons conveniently located on the hand-held RC transmitter. That lets you take pictures and start or stop video recording without taking your eyes away from your FPV display screen. Wirelessly download HD footage straight to your cell phone, and share it proudly with the world on your social media pages.
The proven Inductrix™ drone platform makes flying as enjoyable for new pilots as it is for seasoned hobbyists. Four light, powerful brushed motors supply the oomph for snappy flights. The motors and propellers are mounted inside ducted fan style rotor housings, which help the durable frame bounce right back from ordinary impacts. But even during your very first flight, you'll find it's easy to keep control of your Inductrix™ FPV HD. That's because innovative, sensor-assisted SAFE® technology gives it built-in stability. The drone can automatically maintain a chosen altitude; regain level flight on its own; and, if it lands upside-down, return to upright for another takeoff with just the push of a button. No worries...all fun!
The ready-to-fly Blade® Inductrix™ FPV HD comes complete with assembled drone, flight transmitter, flight battery, charger, and headset adapter. All you add is your smart phone — and you'll be enjoying the aerial view in no time!
Video Overview
High Definition FPV
The Inductrix™ FPV HD camera's low latency 720p video feed is complemented by 1080p 60fps on-board recording. Just add your smart phone for a full FPV experience — enjoying the live view from your drone's perspective and recording it to share with friends.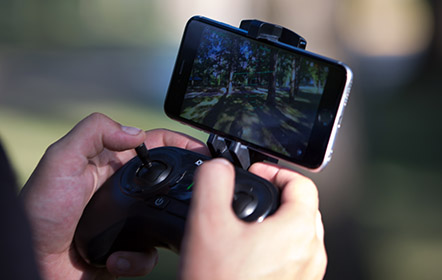 SAFE® Technology
Innovative, sensor-assisted SAFE® Technology makes piloting the Inductrix™ FPV HD easy even for first-timers. Three flight modes — self-leveling angle mode, altitude hold, and "MEOW" auto-flip mode — give the drone built-in stability and give its pilot confidence.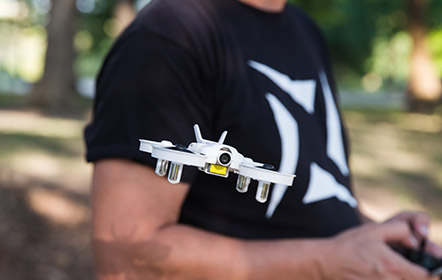 Ready-to-Fly
Everything you need to enjoy micro drone flight and FPV fun comes in one box. Simply add your smart phone for a thrilling HD FPV experience.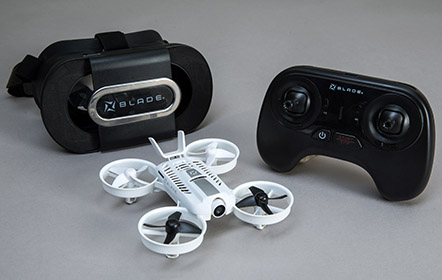 Product Specifications
| | |
| --- | --- |
| Skill Level | Level 1 |
| Approximate Assembly Time | No assembly required |
| Approximate Flight Time | 4 minutes |
| Main Motor Type | Brushed |
| Product Width | 5.1 in (130mm) |
| Type | Ultra Micro FPV Drone |
| Completion Level | Ready-To-Fly |
| Product Height | 1.97 in (50mm) |
| Battery | 1S 550mAh LiPo battery |
| Main Frame Material | Plastic |
| Product Length | 5.3 in (135mm) |