Fusion 480 Super Combo Kit

Fusion 480 Super Combo Kit
Product Details

Key Features
All metal and carbon fiber construction
2mm carbon fiber frame, 3mm carbon fiber landing gear, 2.5mm tail box/fin
Efficient helical main gear paired with a steel pinion to reduce noise
Oversized 25mm tail boom eliminating the need for boom supports
6mm wide belt-driven tail with adjustable belt tension
5mm high-strength steel tail shaft paired with metal bell crank, hub and grips
Full carbon fiber and aluminum tail box with large aluminum pulley
5mm carbon fiber tail pushrod for precise tail control
High-strength steel 10mm main shaft and 8mm spindle
Standard size servos for cyclic and tail
Hidden tail servo for a sleek look
Capable of 3000 RPM head speed for aggressive flight performance
Save money and get everything needed to complete your Fusion 480 with this Super Combo!
Practice flying this aircraft in the RealFlight® simulator!
Needed to Complete
Spektrum™ DX6 6-Channel DSMX Transmitter
E-flite 4400mAh 6S 22.2V 30C LiPo, 10AWG: EC5
What's in the box?
(1) Fusion 480 Helicopter Kit
(1) 4320-1300Kv Brushless Motor
(1) Castle Creations Talon 90 ESC
(3) H6050 High-Torque Mid-Speed Heli Cyclic Servo
(1) H6060 Mid-Torque Ultra-Speed Heli Tail Servo
(1) DSMX® Flybarless Control System
(1) DSMX Remote Receiver
(1) User Manual
Overview
Built on years of engineering and development knowledge, the Blade® Fusion™ 480 helicopter packs all the high-end features into a rugged and durable airframe ready to rip up the skies. This powerhouse features lightweight carbon fiber and anodized aluminum construction presenting exceptional rigidity and durability. The optimized control system geometry offers the most efficient and responsive control. The quiet helical main gear is ready to be driven by a 40-43mm brushless motor bringing high power and torque. A belt-driven tail assembly is housed in construction utilizing both carbon fiber and aluminum to ensure precision performance every flight. For advanced-level 3D pilots, the Fusion 480 delivers an aggressive heli leaving the others in its dust cloud.
Video Overview
Frame
All metal and carbon fiber construction
2mm carbon fiber frame, 3mm carbon fiber landing gear, 2.5mm tail box/fin
Painted carbon fiber skids and tail for easy visibility
Painted fiberglass canopy
Aluminum battery tray with (2) oversized battery straps
Aluminum bearing and servo block with Optimized Servo Geometry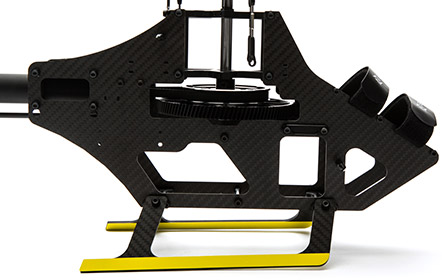 Tail
Oversized 25mm tail boom eliminating the need for boom supports
6mm wide belt-driven tail with adjustable belt tension
5mm high-strength steel tail shaft paired with metal bell crank, hub and grips
Full carbon fiber and aluminum tail box with large aluminum pulley
5mm carbon fiber tail pushrod for precise tail control
Hidden tail servo for a sleek look
Mechanics
480mm (main) and 85mm (tail) carbon fiber blades
Black anodized aluminum swashplate
Aluminum blade grips with CNC zero pitch indicator
High-strength steel 10mm main shaft and 8mm spindle
Efficient helical main gear paired with a steel pinion to reduce noise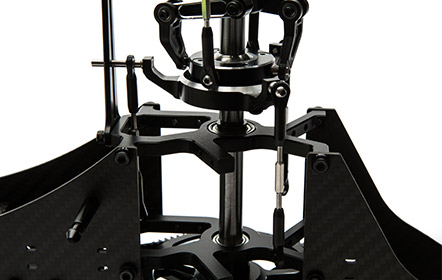 Electronics/Power System
Accepts 6s 3700-5000 mAh LiPos
Accepts 40-43mm brushless outrunner motor (1300Kv – 1400Kv)
Accepts 90 Amp ESC
Accepts Standard sized servos for cyclic and tail
Aluminum battery tray with (2) oversized battery straps
Accepts popular flybarless control systems and receivers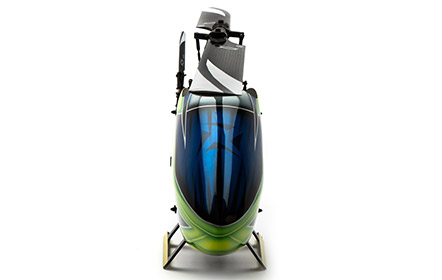 Product Specifications
| | |
| --- | --- |
| Canopy/Body Material | Fiberglass |
| Battery | 6s 22.2V 3700mAh through 6s 22.2V 5000mAh |
| Main Frame Material | Carbon Fiber |
| Product Length | 980mm [38.6in] |
| Main Motor Type | Brushless |
| Main Rotor Head Type | Collective Pitch Flybarless |
| Product Width | 136mm [5.4in] |
| Approximate Assembly Time | 4+ Hours |
| Approximate Flight Time | ~5 mins |
| Pinion | 12 tooth |
| Tail Drive | Belt Drive |
| Completion Level | Kit |
| Main Blade Material | Carbon Fiber |
| Main Rotor Diameter | 1095mm [43.1in] |
| Product Height | 302mm [11.9in] |
| Tail Blade Material | Carbon Fiber |
| Tail Rotor Blade Length | 85mm [3.3in] |
| Skill Level | Level 3 |
| Swashplate Type | 120 degree CCPM |
| Tail Rotor Diameter | 232mm [9.1in] |
| Main Rotor Blade Length | 480mm [18.9in] |