Fusion 270 Kit ARF

Fusion 270 Kit ARF
Product Details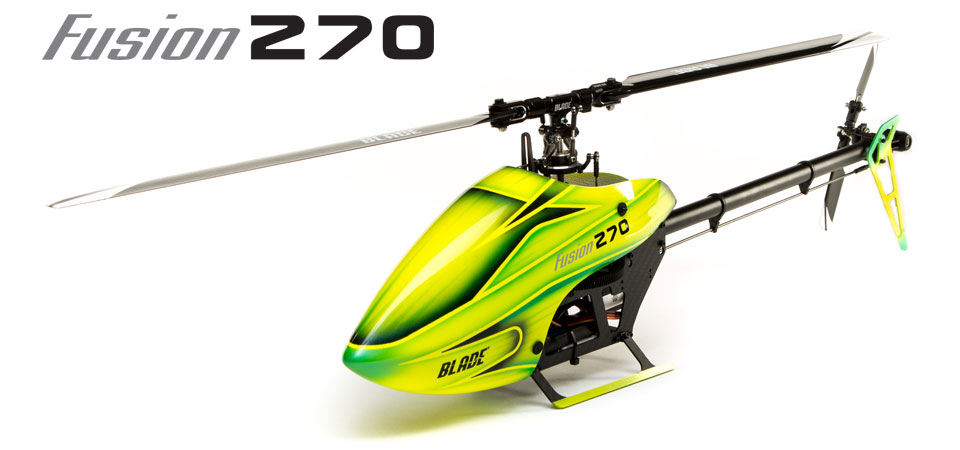 The Blade® Fusion™ 270 ARF helicopter begins a new era of high-end Blade products, with all the features, style, and performance intermediate through advanced pilots demand. This powerhouse features a lightweight and strong carbon fiber frame and landing gear, black anodized aluminum components, and an all-new, high-torque 4S optimized power system (motor & esc included). With the helical main gear and the durable belt driven tail design, there is nothing stopping you from trying the most aggressive maneuvers imaginable. You can even practice flying this heli in the RealFlight simulator! The ARF version comes with a pre-built airframe, and is ready to accept your favorite sub-micro servos and flybarless system.
Video Overview
Needed to Complete
(1) 6+ Channel Transmitter
(1) Receiver
(4) Sub-micro Servos
(1) Flybarless System
(1) 4S 1300 mAh Battery
(1) Compatible Charger
What's in the box?
(1) Fusion 270 ARF Helicopter
(1) Carbon Fiber Main and Tail Blades
(1) 45A ESC with Built in Governor
(1) 2950Kv Brushless Outrunner Motor
(1) User Manual

ARF (Almost Ready to Fly)
Fully built airframe ready to accept your favorite servos, flybarless system and receiver.
Carbon Fiber & Anodized Aluminum Construction
Stylish black anodized head, swashplate, servo block, and blade grips give a high-end finish that stands out from the pack. Rigid carbon fiber and aluminum frame construction features carbon fiber landing gear for a new stance that is light and durable. (servos, receiver and flybarless system not included)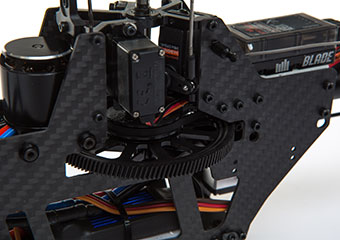 Optimized Servo Geometry
Proven optimized servo geometry provides exceptional response and control, while improving servo efficiency and minimizing mechanical loss to the swashplate. (servos, receiver and flybarless system not included)
Oversized Mechanics
Triple ball-bearing support offers the oversized main shaft, spindle and blade grip components the ability to deliver the precision of Blade optimized servo geometry even under heavy flight loads.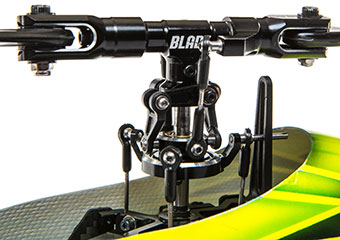 Belt-driven Tail
A robust belt driven tail design provides rock solid tail performance and control, while minimizing collateral gear damage in a crash.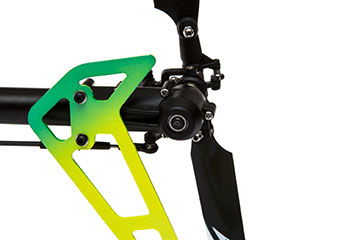 Tail Case Assembly
Newly designed tail case and new metal pulley tail shaft with larger bearings reduces vibrations and adds durability and support.
45A ESC with Governor
The all new, 45A brushless ESC with built in governor provides reliable performance tuned for a 4S power system.
Redefined Power System
Optimized power system utilizes common 4S 1300mAh batteries to drive a top-mounted 2950Kv brushless motor. (servos, receiver and flybarless system not included)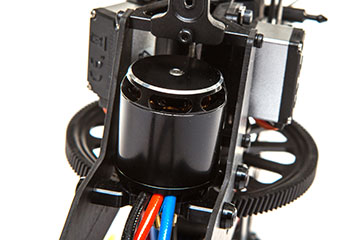 Helical Main Gear
Low wear and quiet main gear provides consistent power and rotation in a more durable design.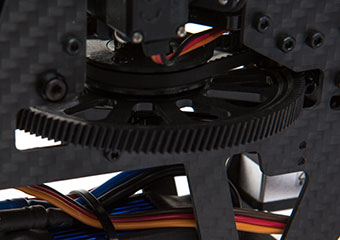 High Visibility
Newly designed fiberglass canopy features a bright trim scheme and matching vertical fin for unsurpassed visibility.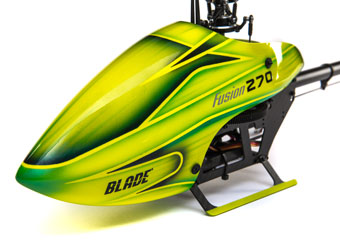 Product Specifications
| | |
| --- | --- |
| Canopy/Body Material | Fiberglass |
| Skill Level | Level 3 |
| Swashplate Type | 120 degree CCPM |
| Channels | 6 |
| Main Rotor Blade Length | 260mm-280mm |
| Approximate Flight Time | 6 minutes |
| Pinion | 12 tooth |
| Tail Drive | Belt Drive |
| Completion Level | Almost Ready-To-Fly |
| Main Blade Material | Carbon |
| Main Rotor Diameter | 615mm |
| Product Height | 190m |
| Tail Blade Material | Plastic |
| Tail Rotor Blade Length | 60mm |
| Battery | 1300mAh 14.8V 30C Li-Po (Sold Separately) |
| Main Frame Material | Carbon |
| Product Length | 560mm |
| Main Motor Type | Brushless |
| Main Rotor Head Type | Collective Pitch (CCPM) Flybarless |
| Product Width | 115mm |
| Tail Rotor Diameter | 162mm |
| Type | Helicopter |