230 S V2 RTF with SAFE Technology

230 S V2 RTF with SAFE Technology
Product Details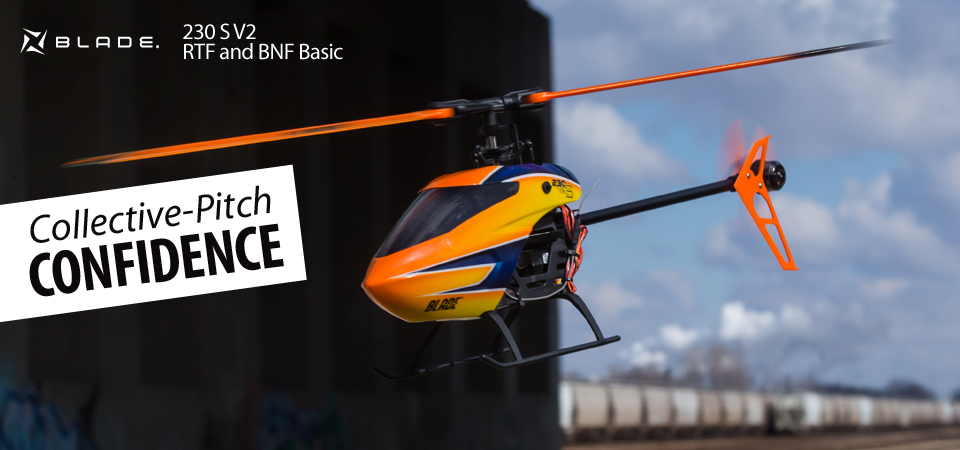 For those looking to hone their skills on a collective pitch machine, the Blade® 230 S V2 takes the flight experience to the next level. Building off the widely popular platform, this new version adds key improvements geared at growing pilot skills. The new ESC gives even more impressive flight stability and heading hold, creating a clean, confidence inspiring flight experience. Additionally, the newly tuned Spektrum™ AR636 with aluminum bottom case and improved damping makes this heli feel like a whole new machine in the air. Engineered around the abilities of innovative SAFE® technology, its progressive flight mode system makes flying a collective pitch heli more comfortable, even if it's your first collective pitch helicopter. A reinforced frame and main gear along with metal gear servos and ABS main blades can survive the learning curve and add confidence. The flight and strength improvements make this a blast to fly in your local park or backyard.
Video Overview

Needed to Complete
Nothing! Everything you need is included in the box.
What's in the box?
(1) Blade 230 S V2 RTF
(1) Spektrum™ AR636 Receiver
(1) Spektrum™ DXe Transmitter with DSMX® 2.4GHz Technology
(3) H3050 Micro Cyclic Servo
(1) Brushless ESC
(1) 3900Kv Brushless Motor
(1) E-flite® 800mAh 3S Li-Po Flight Battery and Charger
(1) User Manual
SAFE Technology
Innovative SAFE Technology makes it easy for anyone to fly helicopters with confidence. Flight modes from self-leveling to full 3D allow you to grow your skills with this helicopter, from beginner & intermediate, to advanced maneuvers.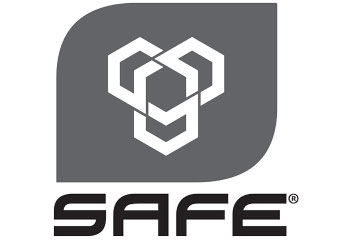 Progressive Flight Modes
Stability Mode-Limited flight envelope with self-leveling a bank angle limit.
Agility Mode - Full control for sport aerobatics with no bank angle limit.
3D Mode - Turns up the flip and roll rate for 3D capability.
Panic Recovery
Quickly return to level flight with the press of a button should you lose orientation, or get into an uncomfortable situation.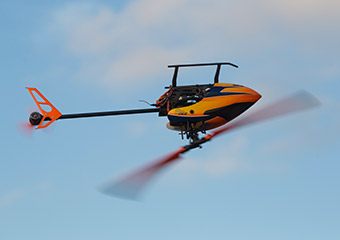 Updated ESC
Newly refined ESC delivers vastly improved performance, reliability, and tail hold.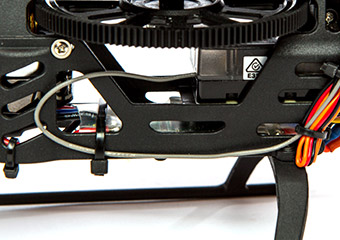 Updated Main Gear
More robust main gear provides greater durability in the event of a crash.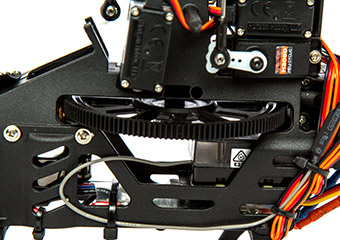 Metal Gear Cyclic Servos
Durable, digital high speed servos offer precise, high-performance control that every heli pilot craves.
Collective Pitch Rotor System
The collective pitch rotor mechanics of the 230 S have been engineered to give you just the right level of maneuverability for learning aerobatics and inverted flight.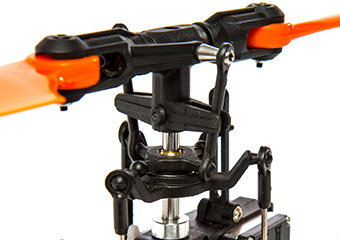 Durable
Impact-resistant ABS main blades and newly reinforced tough composite airframe and tail rotor.
Brushless Motors
The high-speed brushless main and tail motors work together to deliver a simplified drive system that makes the 230 S V2 light weight and responsive.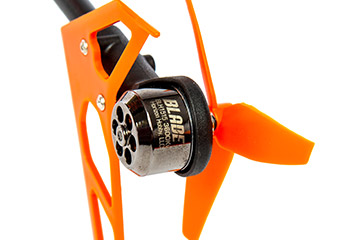 High Visibility
Vivid canopy and bright main blades and tail make it easy to maintain orientation.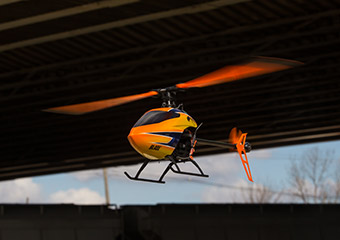 Everything Included
Spektrum DXe transmitter, E-flite 3S 800mAh battery, AC/DC LiPo battery charger, and AA batteries included all in one box.

Product Specifications
| | |
| --- | --- |
| Skill Level | Level 2 |
| Swashplate Type | 120 degree CCPM |
| Canopy/Body Material | Plastic |
| Approximate Assembly Time | No assembly required |
| Approximate Flight Time | 7 minutes |
| Tail Drive | Direct Drive |
| Completion Level | Ready-To-Fly |
| Main Blade Material | Plastic |
| Main Rotor Diameter | 21.10 in (536mm) |
| Product Height | 6.46 in (164mm) |
| Tail Blade Material | Plastic |
| Channels | 6 |
| Main Rotor Blade Length | 9.25 in (235mm) |
| Speed Control | Included |
| Main Motor Type | Brushless |
| Main Rotor Head Type | Collective Pitch (CCPM) Flybarless |
| Product Width | 3.54 in (90mm) |
| Tail Rotor Diameter | 3.25 in (82.5mm) |
| Technology | SAFE Technology |
| Battery | Included |
| Main Frame Material | Plastic |
| Product Length | 18.66 in (474mm) |
| Receiver | Included |
| Tail Motor Type | Brushless |